I am honored to receive this latest award from Book Excellence Awards! Thank you, Book Excellence! It's always exciting to receive an award for one of my books!
Book Excellence Awards Honoree – FINALIST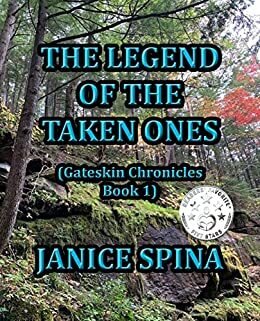 The Legend of the Taken Ones (Gateskin Chronicles Book 1) – Fantasy
Product Details
Book Title: The Legend of the Taken Ones (Gateskin Chronicles Book 1)
Author Name: Janice Spina
Here is the link below to check it out. See what other readers are saying about this epic fantasy series. More books will be coming later in 2023 and beyond.
Reviews from Amazon:
Reviewed By Emily-Jane Hills Orford for Readers' Favorite
Within the Territory of Noella Provence, there was a kingdom, Sovorotskina, known as the Land of Goodness and Light. It was ruled by the great wizard King Gateskin and his fairy queen wife, Solinara. They had three children, Serena, Simon, and Catalina, all with special magical powers. They had to keep the magic secret as there was an evil power in a nearby kingdom, in the land of Parotovina, the Land of Darkness. This evil power once stole an entire village's children to claim the magic for their own people, to use this magic for evil. When King Gateskin is kidnapped, Serena and her siblings combine their powers and resources, enlisting the help of a new friend, a Sprite by the name of Spindle, to rescue the king as well as the descendants of those "taken" children. 

Janice Spina's young adult novel, The Legend of the Taken Ones, is the first book in a six-book fantasy series, The Gateskin Chronicles. With an exciting plot full of magic and the conflicting powers of good and evil, this story is a real page-turner. The story begins with background information on the taken ones, the children kidnapped by the evil powers of Parotovina. Knowing that evil continues to lurk nearby, the magical kingdom of King Gateskin is always on high alert. The adventure truly begins when the king is kidnapped and the children set out on a journey of their own, intent on rescuing their father and leader. This is an epic, high-fantasy adventure that follows in the time-tested style of Tolkien's Lord of the Rings: the ongoing battles between good and evil and the true magic that is found within one's heart and in the bonds of family and friendship.

 
The Legend of the Taken Ones: Gateskin Chronicles Book 1 by Janice Spina
5 Stars: With power comes responsibility!

'THE LEGEND OF THE TAKEN ONES' is book one of six planned in the 'Gateskin Chronicles'. Award-winning Author, Janice Spina, is writing this fantasy series for ages 13-17, but I can attest to the fact, adults will enjoy it too.

Serena Anya (age 14 is the heroine of story, sister to Simon Andolferan (age 12) and Catalina Leahna (age 10). Their mother is Solinara; Queen Fairy of Sovorotskina. Their father is Gateskin; King Wizard of Sovorotskina. Serena has the power to move objects with her mind. Simon can fly, and Catalina can become invisible. With these powers comes responsibility.

Sovorotskina (Land of Goodness & Light) was one of the villages that make up the Territory of Noella Province (later known as Votovia). The other villages are Votovia (Land of Magic & Mystery), Merona (Land of Peace & Harmony), Merlina (Land of Myths & Legends), Amora (Land of Faith & Love), and Parotovina (Land of Evil & Darkness).

I think to understand the story you must understand the 'Votovians'. The Votovians were feared by other villages that did not have fairies and wizards. The Votovian children were taught these five simple rules in Votovian School from the age of four. They used rhymes and simple language so that the youngest children could understand the rules.

Rule#1: Never use your powers to hurt anyone (not even to injure, move or hurt even flowers).
Rule#2: Help your fellow villagers out in any way you can.
Rule#3: Always band together for the common good.
Rule#4: Above all, protect the children. If danger comes, fast we will flee, and stay together using our powers only in an emergency.
Rule#5: Powers are to be used in emergency situations if agreed upon only by the governing council with final approval of the King and Queen of Votovia.

The Votovians were all hoping they would never have to use their powers. Their powers collectively were so strong they could destroy everyone in their path. They were a peace-loving people, and this did not come easy for them, but they would do whatever they had to do to protect their children and the children of their friends in Sovorotskina and any of the other neighboring villages.

I will let you discover on your own 'THE LEGEND OF THE TAKEN ONES'. I highly recommend Gateskin Chronicles, Book 1. Author Janice Spina always has valuable lessons in her storylines, which make her stories true 'Jems'. Janice has written 19 children's books and has multiple series, for ages 10 and up.

Review by Theodocia McLean (Book Marketing Global Network).
Author's Page at Book Marketing Global Network:
If you haven't begun the adventure with Gateskin and company, now is the time to begin. Book 2 is already out there too.
Thank you so much for stopping by to read this review. Come back again soon for more posts about whatever pops into my mind.
Blessings & Hugs! Stay Safe, Stay Well and God Bless!
READING GIVES YOU WINGS TO FLY! SOAR WITH JEMSBOOKS ALL YEAR THROUGH! HAPPY READING!
Janice Spina aka J.E. Spina
Award-Winning Author
Jemsbooks for All Ages!
Jemsbooks.com
Jemsbooks.blog
Jjspina(at)comcast(dot)net
AMAZON.COM AUTHOR PAGE (All books)
AMAZON.COM JE SPINA NOVELS PAGE